If you are living on campus, York University will become your home away from home!
The Residence Life team provides you with a safe, comfortable and supportive learning and living environment. Residence will be your hub for making memories, developing lasting friendships and gaining valuable experience and connections through community involvement. Welcome home!
Welcome to residence at York University – your new home away from home. Your life in residence will provide you with an incredible opportunity to make memories, develop lasting friendships and connections, and get the most out of your York University experience. Residence living will play a role in your learning about yourself and others, help you build connections to York, offer opportunities for leadership and personal development, contribute to your academic success and build on your understanding and compassion for others and the human experience.
The residences at York are more than just a place to live. They are vibrant communities where students can make valuable social and intellectual connections. Each residence is affiliated with a college which plays an integral role in facilitating those connections and ensuring that as a resident, you have the support you need to make the most of your experience both inside and outside of the classroom.
The Residence Life Staff are eager to work with you to ensure that you have an amazing experience in residence and at York. They will provide you with support, guidance and opportunities to learn, lead and grow. With your assistance, we will endeavour to provide each of our community members with a safe environment to study, meet new people, step outside your comfort zone and succeed. Please take some time to get acquainted with your new home, the staff who work within it and the various people who will share this journey with you. We hope that residence will be the perfect place to start and end each day, while experiencing all that York has to offer.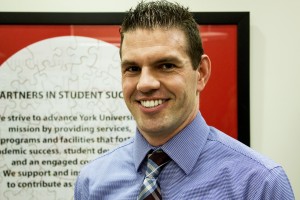 Daryl Nauman
Assistant Director, Residence Life
Student Community & Leadership Development (SCLD)